GCSE Awards Evening 2018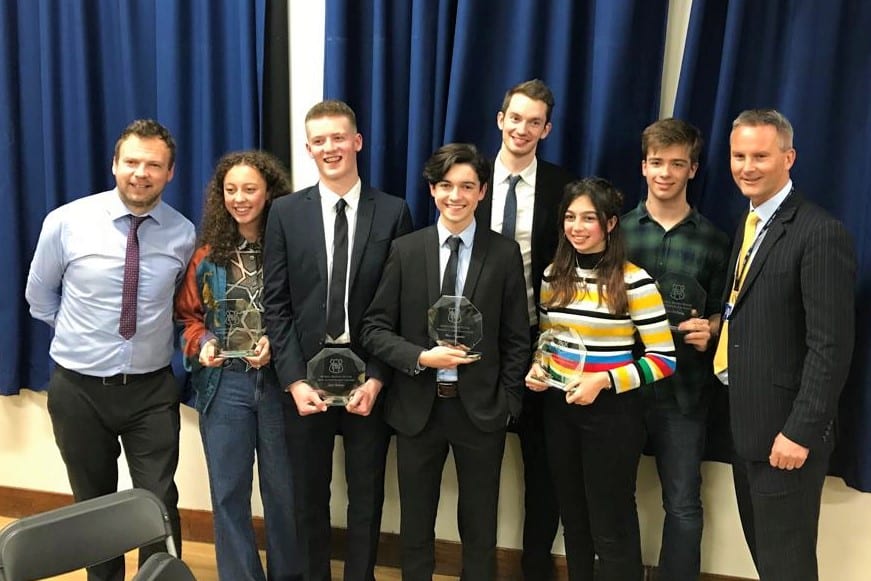 Thursday 22nd November saw North Bridge House Senior Hampstead's class of 2018 return for the school's prestigious GCSE Awards Evening.
Following a summer of GCSE success, having secured a huge 34% of the top grades 8-9, NBH Senior Hampstead graduates regrouped to recognise their individual achievements.
With parents and teachers in attendance, awards were given for each subject as well as overall awards for student leadership, achievement, endeavour and spirit.
"It was a wonderful, heart-warming occasion. Patrick much enjoyed seeing everyone again and was thrilled to get an award," said mother of 3D Design award winner, Patrick.

 "It was truly in the spirit of NBH Hampstead," agreed fellow parent and mother of NBH Senior Hampstead graduate, Adam.  "It was a great celebration of endeavour, scholarship and generosity. Thanks to all the teachers who gave Adam such a wonderful high school education."
We are very grateful for the lovely parent and pupil feedback and thank you all for making the GCSE Awards Evening 2018 a truly special event.
Award Winners 2018
English Language – Ava
English Literature – Eabha
Maths – Lorenzo
Biology – Raphi
Chemistry – Lorenzo
Physics – Fred
Combined Science – Maria and Mohammad
French – Iris
German – Andre
Latin – JohnSpanish – Rina
Computer Science – Eric
Art – Femi
Photography – Hosanna
3D Design – Patrick
Food Technology – Abby
PE – Amber
Music – William
Drama – Celia
History – Noah
Geography – Sarah
Student Leadership – Freya (Former Head Girl)
Achievement – John
Endeavour – Ra'na and Sam
Spirit of North Bridge House – Harri (Former Head Boy)

Parent Feedback
See parent comments about the GCSE Awards Evening below.
Parents of NBH award winner, John
We are bowled over and so happy. Everything John gained at North Bridge is with him, as he goes about, it's clear to see, but his GCSE Achievement award is a great honour and beyond everyone's expectations.
He said at the Awards Evening that his time at NBH was the best, most unforgettable 5 years.
Parents of NBH award winner, Celia
We would like to say a huge, huge thank you to the wonderful team at NBH Senior for all that you have done for the class of 2018.
From your inspiring teaching, to preparing them for exams, all the school trips/residentials, the school prom, the Awards Evening, the amazing support that has been offered throughout the years…. the list goes on.
Celia had a truly wonderful time and for this we thank you.
Parents of NBH award winner, Eabha
We came away recognising that Eabha's teachers had completely invested in all the kids, both emotionally and academically – a rare experience. Eabha says that Mr Hall's words of 'Remember the hard work it took to get your GCSEs,' were like a light going on and an incentive to achieve in her A Levels. Thank you to everyone who helped support Eabha during her time at NBH.
Published on: 26th November 2018