Art Trips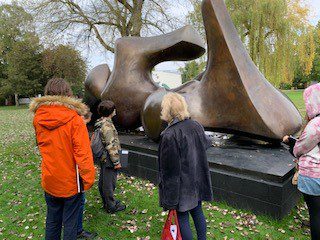 This first half term has been very busy for the Art department at NBH Canonbury. Alongside the hanging of GCSE and A Level work around the school and in the library for the school open days, we have run art trips to The Henry Moore Foundation at Perry Green for Year 8; The Tate Modern for Years 11,12 & 13; and to Cuffley Camp for Year 10 to enjoy a weekend of painting and drawing.
The Tate Modern trip enabled our Year 11 GCSE and Year 13 A Level students to explore the wide range of modern works on display in order to gain new ideas for their own projects, which are currently in the beginning stages of development. There was also an exciting Rodin exhibition on display that a number of students took drawings from. Year 12 were looking especially at figurative work and so the Rodin show was particularly useful for them.
Year 10 were taken to Cuffley for an entire weekend of sketching and drawing to prepare them for their painting this term, which is based around the theme of 'environments'. They did very well and produced some beautiful studies as well as taking lots of photos that they could use back in the studio at school. They also began the outline sketch on their canvases which will become one of their major pieces of work for the year. In the afternoons they had centre based activities like climbing, archery, problem solving, axe throwing and, in the evening, a camp fire and songs. A fine time was had by all, even though the midges and mosquitos made their presence known at bedtime!
The final trip in the last week of the half term was for the whole Year 8 at The Henry Moore Institute in Perry Green. The weather was beautiful with the autumn leaves and light providing the perfect backdrop for the wonderful Henry Moore bronze sculptures scattered around the grounds. The students were given a guided tour by the Henry Moore staff in three groups before stopping for a packed lunch and tea and cake in the café. The rest of the afternoon was spent with sketchbooks and pencils revisiting all of the sculptures in smaller groups. Students were also able to see some of the work in the indoor studios that will inspire the making of small clay maquettes later on this term.
All of the work produced on these trips will go towards students' ongoing projects at school. Above all, this exposure to great art has been uplifting and enriching after such a long time locked down in the Covid climate.
If you would like to find out more about our Senior School Canonbury, or request a prospectus, click here. To find out when our next open days are taking place, please click here.
Published on: 22nd October 2021