Build a Garden in a Bottle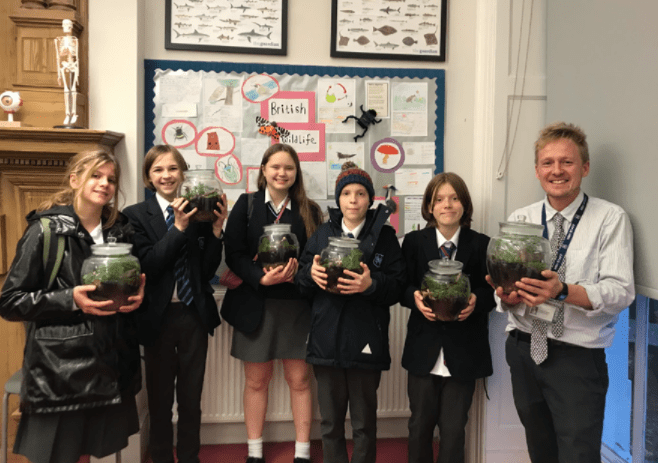 Over the winter term the growing season slows and the nights draw in, which has forced Plant's People and the Planet to focus on house plants and indoor activities (and back off the relentless weeding of the Sixth Form garden!). With a slightly smaller group of Year 7 and 8s and the fortunate addition of Ms Swingler (on loan from the Art Department), the "wow factor" of activities has reached new highs.
Before autumn claimed the last of the sixth form garden foliage, an early activity was to make leaf collages inspired by Matisse, Andy Goldsworthy and the natural beauty of plants.
Ms Swinger introduced the group to the concept of the leaf press. Combining the delicate symmetry of flowers with the textures of glazed ceramics really inspired us.
The final showstopper challenge was to embrace a cultural meme of the moment to build a "Garden in a Bottle". This four-lesson project involved research into the appropriate plants and substrates, a design component and then two sessions of construction before group members took their designs home.
The terrarium concept, first pioneered in the nineteenth century and made popular more recently via social media, has several dimensions. Students learnt about ecosystems, plant physiology and also aesthetics. There are examples of terrariums that have survived, unopened for over fifty years. It remains to be seen whether ours will have such longevity!
To find out more about NBH Senior Canonbury, please visit here.
Published on: 7th January 2022