Guest Chilean Students Thrive at North Bridge House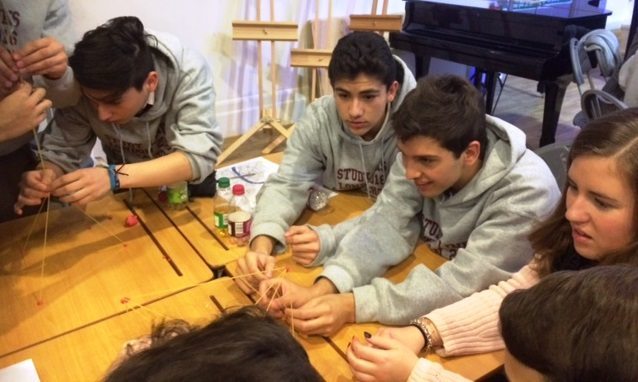 Picture: North Bridge House and Chilean students team-building in group social
Chilean exchange students experience London life with NBH pupils
The first term of the 2016-17 academic year has been extra special for North Bridge House Senior Schools, who have been joined by 20 Chilean students across their two North London campuses: Hampstead and Canonbury. North Bridge House students have thoroughly enjoyed introducing their Chilean guests to London city culture as well as the vibrant life of the school and, in turn, have learned a great deal from their Spanish-speaking peers.
Inclusive UK Curriculum
Joining our students from three Colegios Pumahue schools, 12 of our Chilean visitors have settled into Years 10 and 12 at North Bridge House Canonbury, whilst the other 8 have made many new friends at our Hampstead campus. Colegios Pumahue is committed to the continuous development of its English provision and as such, the Chilean students have been fully integrated into our broad-ranging UK curriculum, together with our unique enrichment programme.
From Hampstead's impressive Design Technology rooms to its inspired outdoor Airgym, and Canonbury's stunning Grade II listed building fitted with state-of-the-art Science labs, the Chileans have found North Bridge House an "innovative" and "inspiring" place with an "amazing curriculum" and "a lot going on".
They have enjoyed the challenge of their English-taught lessons and, most of all, being able to contribute to our own students' learning in Spanish and Modern Foreign Languages lessons.
All-round educational experience
At both locations, the Chilean students' timetable has been complemented by a full programme of extra-curricular activities as well as team building games, themed assemblies and joint Hampstead and Canonbury socials – all of which have given them the chance to get to know our students in a less formal setting.
"North Bridge House is all about the people" and the "community spirit", they commented, and everyone here at NBH has really valued the exciting cultural dimension they have brought to our school.
Our new Chilean friends have also joined their UK classmates for a range of exciting trips, which have further enhanced their educational and cultural experience. From historical tours of the local area and Oxford to magical visits to the Warner Bros. Harry Potter Studio and Hyde Park's Winter Wonderland, the Chileans have gained a real flavour of London's rich, colourful city.
Building links and broadening horizons
We will be sad to see our Chilean guests leave at the end of term but look forward to ongoing projects between our schools, which will benefit both their English provision and our Spanish curriculum. We are also very excited to be planning a reciprocal trip to Chile for some time next year!
Published on: 5th December 2016