Cognita Learning Post

Foreword
Welcome to the latest edition of the Cognita Learning Post, the very first global edition. The decision to welcome Asia and Latin America colleagues into our audience is timely; less than six weeks ago the Heads and Education teams from across our family of schools came together for the very first time at our Global Education Conference in Ashridge. Increasingly we are able to identify as an 'International Schools Group' rather than simply a 'group of schools'.
Regular readers of the Learning Post will perhaps discern a slightly different feel to this edition. I am grateful to the support of Mags Kubicek and Rebecca Hills from the Communications team for adding a dash of professionalism to my amateur format. For the first time you will be able to access video content, whilst we have a Spanish language edition for our colleagues in Chile (we can expand to Portuguese in future too, if required).
Though the format has changed, the focus remains very much as before; on what is happening in our schools and classrooms. Alongside articles from schools across each of the Cognita regions are an interview with Marcos Barros Vallejos (Director of Education for Chile) and an update from our Group CEO, Chris Jansen, on the Global Education Council. The regular Book Review feature maintains the international theme with an evaluation of the recently published Cleverlands, Lucy Crehan's comparison of five high-achieving education systems around the world according to the PISA rankings.
I hope that you will enjoy the contents and possibly consider making a contribution to a future edition of the Cognita Learning Post. The intention is that it is a publication by educationalists for educationalists. There are over 3,100 teachers within the Cognita Schools group – that is a whole lot of wisdom to be tapped.
Merry Christmas, everyone.
Jonathan Taylor
Head Teacher, North Bridge House Canonbury
---

Students from Cognita schools in Chile have been enjoying an educational visit to Cognita schools in London over the past six weeks. 20 students and two teachers have been attending North Bridge House Canonbury and North Bridge House Hampstead, while staying with local families. A reciprocal trip for UK students to Chile is being planned for 2017.
This exchange follows other links being forged between our schools, including Huddersfield Grammar in the UK and El Limonar Murcia in Spain and Hydesville Tower and British School of Barcelona. Cognita is actively exploring how we can further develop this activity.
---
A simple grain of rice – a Mindful tale
Alicia McKeogh, Mindfulness Coordinator at International School Ho Chi Minh City, explores what would happen if you gave every classroom teacher a rice plant in a transparent glass as a gift?
Background
Three months ago I was asked to lead two ten-minute Mindfulness practices at the 3E conference held at ISHCMC Vietnam where 200 participants from local and nearby countries attended. I had just germinated some rice seeds and had planted them only nine day previously and they had started to shoot, reaching about ten to twelve centimetres in height. The glass bowl that I planted them in allowed people to see the intricate root system and translucent green of the rice plant as it began its life journey.
These Mindfulness sessions invited the participants to imagine what the soil could represent for each one of them. They were then invited to see the soil as the educational environment rich in knowledge where they worked, and then to reflect on what they would need, if they were like the rice seed, in order to grow and thrive. What then would the water represent? Name something that you need every day that enables you to grow. The sunlight, the environment in which you work, what could this represent in terms of energy? Then, at the end of the conference, a small rice plant was presented to a representative from each school to take back to their workplace and to nurture it.
From this small gesture came an idea. What would happen if every class at ISHCMC was given a rice plant to nurture as part of whole school Mindfulness collaboration experience?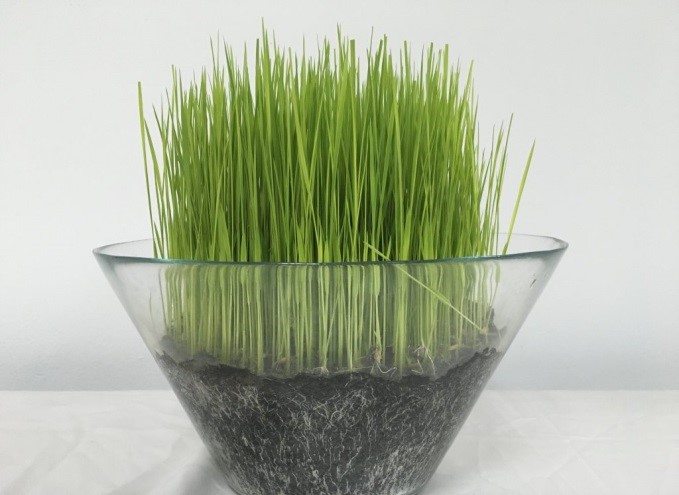 Receiving
After the conference I came home and started to germinate rice grains left in water and wrapped in a cloth to block out all light. There in the darkness the first stages of growth began. When the rice seeds had germinated I brought them to school and announced that I had a gift for everyone. As I went around giving each teacher their plant it was interesting how different teachers received this gift. Some with a smile and some with questions about how to care for it etc. I had no answers as this was a living inquiry. "Just water it and observe it," was my reply.
Nurturing
For the first couple of weeks teachers and students were talking about how quickly the rice plant had grown, how green it was and how everything was thriving. The plant began growing an extensive root system which could be seen clearly through the glass. However, as the weeks turned into months this beautiful fresh plant began to change. Holidays came and many of the rice plants were neglected; some survived and others did not.
Response
This change brought about a whole new discussion. What do we do now? Teachers were sending their students to me with their rice plant ,looking for ways to revive their plant, wanting so much to make it look the way it did before. Clearly, it could not because it belonged to the laws of nature – which call for change in order to grow.
What Now?
The beauty of the rice plant had faded, so I took a picture of it with the caption underneath, "Will you still love me?" Time passed by and stories of cutting the now brown strand off, and even stories of throwing out the whole plant, began to become more apparent. There were still some teachers, however, saying that their plant was at least alive, if barely. And then when it looked like all hope was lost two rice grains began to re-shoot. I re-sent this picture to all staff and called it "hope".
The moral of the tale
This story is like our own Mindfulness journey. When we start we are curious (can it do all it says it can?), excited or maybe enthusiastic and we start to read about it and begin to practice it and everything is fine – until the passage of time. Even though we are practicing we do not realize that, like the rice seeds, we are growing roots and developing habits that will serve us at a later stage. Then like the rice plant the green turns to brown and begins to die.
This is like when the novelty wears off when practicing Mindfulness and thoughts of giving up enter our minds. However, we forget that although the plant looks like it has died the nutrients are held within its roots. So like the rice plant we too have "roots" that grow stronger when nurtured and given the optimum environment to grow. Time will tell.

Melissa Sokol of the Australian International School Singapore shares how she led a teacher enquiry group to improve teaching practice in maths.
Headship – home and away. Spot the difference.
by John Bell, Executive Headteacher of British School of Barcelona
Same but different, different but the same – not sure really. I certainly know that being a head anywhere in the world is a wonderful job but full of those moments where you just know you could have handled things better.
It would be fair to say for me going back into headship after, let´s say a few years away, is harder than I remember. I reflect… is this because I am in Spain, or is it because I´m older but not a lot wiser or is it because it´s just tough?
My conclusion it´s all three. Working in an international school with nearly 50 nationalities of children and quite a few nationalities of staff is simply great. It´s refreshing, exciting and I really enjoy not always understanding how the local culture works and, indeed, how different nationalities of parents view education – every day is in fact, a new day.
Fundamentally, I personally feel a great sense of creativity and ingenuity in leading an international school – a very liberating feeling. We are able to adopt the best of the British (English system) but we can adjust, add and develop it to meet the local and international context we find ourselves in.
Ironically, the local context is significantly important for an international school – understanding the local rules and regulations (much more stringent than in the UK – here in Catalonia) is vital in running a successful school – and with this you need every bit of indigenous help you can get – understanding some of the language is simply not enough.
Most intriguing and challenging are the parents and their very strong opinions. As in all schools parents are not a homogenous group – but in an international school the variations are extreme. We have parents with many very different experiences of education and with many different expectations. If we are not careful it is easy to drift into national stereotypes – the Russians want more tests and more homework, the Spanish want fewer tests and less homework and the Brits just want to be in school all the time. Of course this is not true (mostly) – but these perceptions need careful handling.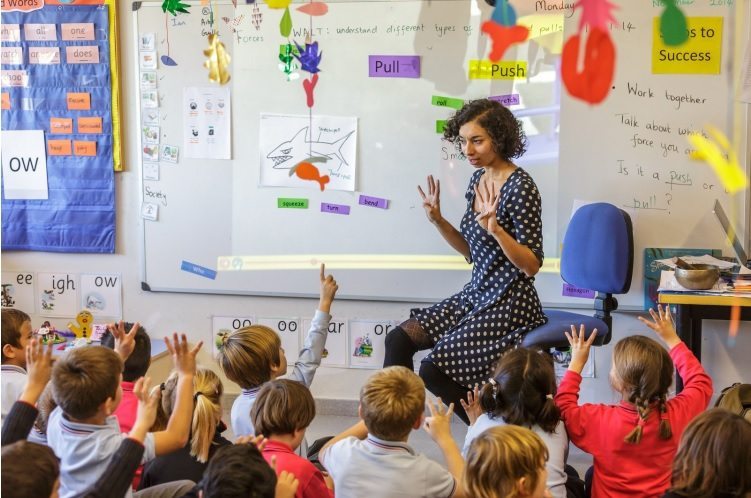 Management of the staff group in an international school is also different – I think. Essentially, every member of staff (besides a small group of local colleagues) have made big ´life´ decisions to work abroad. So in essence they are decision-makers, staff with attitude, staff with a vision about their lifestyle and their work-life balance.
This all needs managing. We have young staff on an adventure – they add great value on their arrival – best current practice and all that – but quite often off they go into the sunset with their energy and their plans. That can leave us with ´lifers´ as they are colloquially known. Staff, often senior, who have a great job in a great city with the sun on their backs. Keeping in touch with ever-developing best practice is the challenge here – but fortunately I have only found wanton enthusiasm here – I`ve been lucky.
On the pupil front – well, compared to my headships at home I can simply say the difference I have found is startling. Pupils and students are enthusiastic, multi-talented learners – many of which speak several languages and are most likely to be learning in school in their second or third language. These children, often known as ´children of the third culture´ because their parents come from different countries and they are being raised and educated in a third country (and for some a country they were not born in) are socially adept, curious and confident. Put simply, we always have to be at our teaching best to meet their needs, demands and aspirations.
But, as I reflect on the difference and similarities of headship home and away – then I think the biggest adjustment is settling in to and understanding the pace and rhythm of the working day and academic year. Being used to a northern England, dark night, cold day headship where bank holidays fall only on wet Mondays then I think the contrast immense. Here in Barcelona school days are long and warm, everybody stops for lunch at 2pm, meetings often start at 6pm and bank holidays fall when they fall – and the world stops – no matter what day of the week it is.
Which is just as well really as it´s given me time to write this tale on a Tuesday, in the garden, in the sun. Happy Constitution Day to you!
---

English language provision is going from strength to strength in Chile. Teachers from two regions who helped build these pioneering programmes look back on their involvement.
---
In Conversation with…Marcos Barros Vallejos, Director of Education, Chile
Can you tell us a little bit about your career?
I qualified as a history and geography teacher at La Frontera University in Chile- with a degree in Education from Universidad Austral – Chile, Educational and Vocational Counselor, with a Diploma in University Teaching, Diploma in Generic Educational Skills and a Master in Educational Management.
During my time as a teacher, I have developed different roles and functions, teaching in schools, not only at secondary level but also holding roles in administrative and leadership management. I have also worked as a university professor in places such as Universidad Católica, Universidad Santo Tomás, Universidad de Los Lagos in education and psychology.
At a national level in Chile I have held the position of National Counselor for the Board of Senior Management dealing with topics related to Educational Management in the Public System in Chile. I have been Head Teacher in Pumahue Puerto Montt and in Pumahue Temuco schools, both of these schools are currently part of the Cognita network.
For the last four years I have been the Educational Director for the Pumahue-Manquecura schools in Chile, with 10 schools and approximately 11,000 students.
You have written several books about education, what is the main message of these books?
As a matter of fact, I have written books as co-author, together with my wife Andrea Ketterer V. These books are currently being used in schools in Chile and at universities, for the preparation of future teachers. The central theme of these books is the Integral Training of students and, therefore, a tool used by teachers to work with their students. These books include units of orientation and counseling on putting into practice courses centred onaround values for contemporary life. The topics covered in give students some tools that can help them better manage their school lives and their future at University – and of course in their future working life. Copies of these books are being shared abroad.
How do you feel that education is different in Chile to other parts of the world such as Britain or Asia?
I believe that the approach to education should not be different in the different regions of the world as long as the key is student-centred learning. What might change are the different methodologies or strategies applied to obtain the best of every student. This is when best practices appear which should be shared across the world through strong lines of real communication like this great opportunity in which I have been invited to participate. Through the differences we have to be able to grow so as to strengthen our institution, developing every aspect of the Cognita way.
What do you think are the benefits of working for a global schools group?
It is a great opportunity for educational and institutional growth, being able to share best pedagogical practices and of course, gain experience from experts in the area of education. Having the Cognita Way as a central guide for our institution allows for academic enrichment and improvement where the students receive the benefits since they are at the centre of the process. Having the opportunity to learn about different educational curricula fosters important growth not only for the people but also for the institution.
How do you like to relax in your spare time?
I have many different forms of entertainment after work, the first and most important one is talking with my family: my wife, my three
children and my dearest granddaughter. The second one is reading books and magazines related to education. The third one is my passion for sports. I love playing soccer. I play as a goalkeeper in an amateur Chilean soccer team. Reading is what I do when I'm alone and what allows me to be updated mainly in the educational field.
---
Cognita's Global Education Council: Reflections on Year One
By Chris Jansen
It's been nearly a year since we formed the Cognita Global Education Council and the work of this group has been instrumental in putting education at the heart of our agenda.
Our basic starting point in early 2016 was to bring representatives from our educational leadership in each region together so we could establish joint priorities. This was a real step forward, providing a practical forum for a joined-up conversation on education within Cognita.
Simon Camby, Luiza Sassi and Adrian Watts have been involved over the course of the year alongside members of the Cognita Leadership team. Also joining us as an external member is David Smellie, Partner at Farrer and Co and former Chair of the Southbank Board. David has great experience and is a real leader in the area of safeguarding and education more widely. David has served as a much-valued 'critical friend' on the Council.
There have been several key outcomes of the Council's activity this year. First and foremost being the work to develop and then refine the Cognita Way by facilitating discussions with all our educational leaders. It was critical that this framework be authentic and true to our purpose and ambition as a global group. I am grateful to everyone on the Council for the rich debate – and the discussion they undertook within their respective communities – to ensure our framework evolved to reflect who we are and where we want to be as an organisation.
The Council was also quite literally the genesis for our recent Leading Education 2016 conference. It was there that the seed was planted to bring all of our educational leaders together. Again, this was a great step forward for us as a global group and I am grateful to the Council for the time and effort everyone put in to ensuring our programme struck the right chord and had high impact.
Looking to the year ahead, the Council has much to build on given the success of our global conference and the strong appetite among us all to share best practice and develop our people. Across 2017 we will have a determined focus to capitalise on our group to improve the quality of education experienced by all of the students in our care.
---
Book Review: Cleverlands: The secrets behind the success of the world's education superpowers, by Lucy Crehan (Unbound)
Review by Jonathan Taylor
Cleverlands is essentially the story of one teacher's journey across five high performing education systems. Fuelled on curiosity – and perhaps no little frustration deriving from her time teaching in the UK state system – Lucy Crehan spent two weeks in each of Finland, Japan, Singapore, Shanghai and Canada. She spent time 'living with teachers, listening to parents and learning what education looks like in completely different cultures'. The result is a book which should be read by anyone who has an interest in improving education – and a testimony to the merits of crowd-funded publishing.
I 'pledged' to buy this book in summer of 2015 after hearing Lucy describe her 'geeky gap year'. I was impressed with her get up and go, her understanding of education in a global context, and her considered approach to evaluating education practice. All these qualities shine through in the book. It is even handed in its treatment of wholly different educational cultures (not an easy task) and deftly references an extensive body of supporting research. Yet, whilst it is academic and analytical as required, it is very much a personal odyssey – and all the more engaging a read as a consequence.
First up was Finland, a country oft cited by more progressive educationalists as a system from which the UK could learn. I have never quite bought the Finland story – a country with a frighteningly high suicide rate, unemployment figures at over 8% and only five Nobel Laureates in its history can't be doing that well in education terms – so I was looking forward to learning more. Besides explaining the linguistic advantages Finland enjoys by having a language with great orthographic transparency (I'm sure you don't need me to explain) and a heritage of reading – even in the sixteenth century you weren't allowed to marry in Finland unless you could read a section of religious text – the author explains that Finns achieve impressive reading results perhaps because of, rather than in spite of, starting school at a later age. There is also discussion of the high quality Special Needs provision and explanation of the high quality textbooks which Finnish teachers utilise to good effect. Certainly, I could see much to admire in the Finnish model, though, like the author, I remain unconvinced by the argument that 'the brightest kids, they'll learn anyway, whatever you do with them'.
A trip East follows, with Japan, Shanghai and Singapore next to be explored. Through each of these chapters I was constantly reminded of Macbeath and Mortimore's argument that the last 30 years of educational research have taught us, inter alia, 'The context of national culture is a powerful determinant of parent, student and teacher motivation and that school improvement requires more than simplistic borrowing of remedies from other countries'. This point is succinctly illustrated by a quote from a Japanese parent on page 65, 'Japan is a country where if you want to go into society you have to go by the rules, so you have to first learn in school to go by the rules'. A view that underpins the Japanese proverb 'The nail that sticks out will be hammered in'. The chapter is particularly interesting on the role of 'education mums' and the sacrifices expected of them. Japan remains a deeply patriarchal society and it would be unfeasible – and undesirable – to expect British mothers to sacrifice their careers to support their offspring in the way that is culturally dictated to Japanese women.
Next stop Singapore. (At this point I started to wonder whether Lucy was planning to write a follow up book about the cleanest countries in the world). Interestingly Singapore has just topped this year's PISA rankings so no doubt will be under particular scrutiny in the months ahead. This chapter focusses heavily on the streaming system which is the bedrock of Singaporean educational provision, and includes an excellent examination of intelligence testing and how the original concept has been distorted. It also includes the most striking statistic in a book full of interesting statistics, referencing a survey of Singaporean children aged between 10-12 that revealed a third more children were afraid of the upcoming PSLE exam than they were of their parents dying. If that doesn't make you question the principles at the heart of the education system then nothing will.
Our intrepid author next ventures to the Middle Kingdom to explore the education system of Shanghai (one of this year's PISA fallers). I was particularly interested in this chapter, having worked extensively with Chinese students and dedicated a large part of my Master's research to comparing Confucian and Western education systems. For people unfamiliar with Confucian learning or 'the paradox of the Chinese learner', this chapter makes for a super introduction. The author is also to be commended on her exploration of the Hukou system and its impact on educational outcomes in Shanghai. The Hukuo is a household registration system which determines where a Chinese citizen is allowed to live and is used manipulatively by the Shanghainese government to control the number of immigrant students (in this sense, non-Shanghainese) included in the PISA assessment to inflate the city's performance.
The chapter also includes an interesting section on Maths teaching principles and practice which is likely to be of interest to the Maths teachers amongst us. One slightly surprising omission was the Chinese fascination with Western education. With increasing numbers of Chinese students not only applying for university education in the West, but an explosion of Chinese nationals seeking international education programmes in China itself, I felt there was scope for evaluating why such a successful education system hasn't (yet) managed to stem this trend.
The final stop was Canada. For me this was the least engaging chapter of the book, however, for teachers working in nursery/primary settings it may well be the opposite. There were however, two key takeaways (beyond the discovery that all kindergarten displays were at child height!). Firstly, the significance of specialist Learning Support for those children who require it (much like Finland). And secondly, the fact that the introduction of a commitment to discovery learning has coincided with a slide down the PISA rankings. The book explores whether the two are correlated – but I'll let you read it to discover the answer.
The book finishes with 5 key recommendations that the author believes could be applied in the UK -or elsewhere. I won't summarise them here, largely as I want you to read the book for yourselves. Instead, I have outlined three key points which I feel the book highlights or reinforces. Firstly, as noted earlier, the concept of culture cannot be underestimated. The Chinese concept of 'licking the bitterness' or the Japanese concept of 'Gaman' each reflect a willingness to suffer/sacrifice to achieve a goal. Inseparable from this is the pressure exerted by parents and teachers on children to make this sacrifice. These are cultural phenomena and cannot easily be transplanted to the UK.
However, that doesn't mean there is nothing we can learn from other countries' education systems, or indeed this book. The second most striking thing is the importance of professional knowledge and expertise, particularly around support for students with specific or individual learning needs. Good intentions are no substitute for expertise. Finally, and perhaps indirectly linked to my first point, is what might be termed the concept of 'shadow education'. Theoretically, PISA compares national education provision, much like in this country we compare schools and regions against each other. Yet, in Singapore students use tutors to get ahead, in Japan they have Juku or 'cramming schools, in Korea it is the Hagwon. Similarly 42% of London children have received paid tutoring – which I can assure you this is not the case in Wigan. So, if so much learning goes on externally of the school environment, how can we fairly compare schools/systems against each other?
I will end on something of a lament despite this being a wonderful book to read and review. Throughout the book I couldn't shake the feeling that for all the former teacher was making a broader, more unique impact on education by undertaking this project, UK classrooms are ever so slightly the poorer each time one of our brightest and most dedicated teachers exits. Cleverlands will provide policymakers with ample food for thought, but perhaps they should concentrate their minds most on why the author felt the need to write it in the first place.
---
Published on: 15th December 2016