Dare To Be Different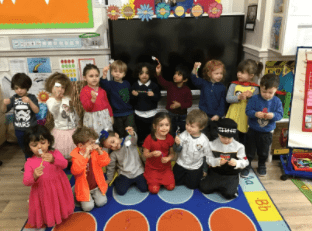 Anti-Bullying Week 2021 took place from 15 to 19 November and the theme this year was One Kind Word. To mark the occasion, the Nursery School's Tigers class made friendship bracelets for each other and told one another why they were friends. Pupils at NBH West Hampstead took the opportunity to put their phonics learning to the test, labelling each other with kind words. While teaching phonics is integral to academic development, teaching kindness is essential to social and emotional development.
Anti-Bullying Week is also a great opportunity to dress up and dare to be different from one another – to celebrate being individual – and Nursery & Pre-Prep pupils thoroughly enjoyed expressing themselves through their costumes. Altogether we raised £159.89 for the Anti-Bullying Alliance!
To find out more about NBH Nursery & Pre-Prep, please visit here.
Published on: 6th January 2022