Demonic Dramatics with Prep School performance of The Demon Headmaster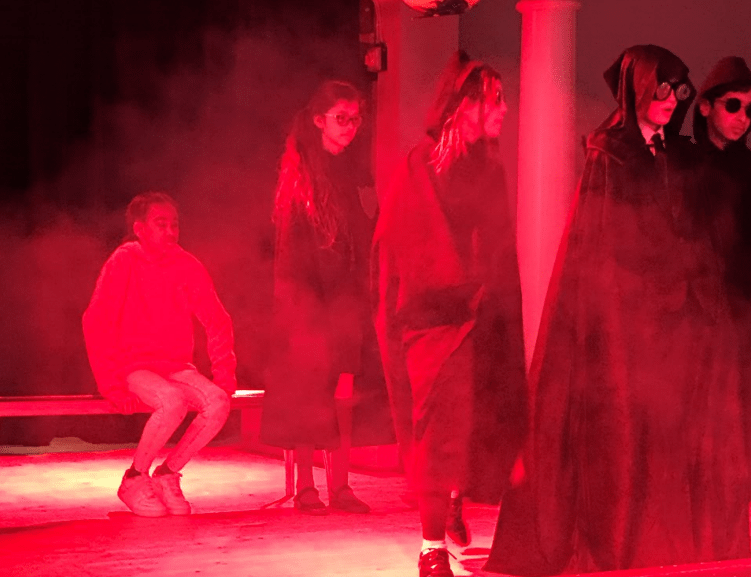 From the pages of the Gillian Cross favourites to the stage of North Bridge House Prep, The Demon Headmaster never fails to excite and intrigue audiences.
The title character, played here with convincing gusto, is a strange being with the powers of hypnosis and a desire to take over the world, as he believes it will be better under his regimented ruling. He has piercing eyes, which he normally hides behind his extraordinarily hypnotic glasses – removing them only to hypnotise his victims!
Across a series of evening shows and one special matinee performance for local primary Christ Church Camden, NBH Prep pupils from all year groups wowed guests, supported by their hard-working peers on lighting, sound, costume, hair and makeup. The talented cast shone in every aspect of the performance and backstage, the crew relished the opportunity to have a creative input into the show, producing special effects, directing their fellow actors and representing the school's broad provision for the arts, which has been commended in previous outstanding inspection reports.
We hope that our chapel-full of audience members enjoyed the show as much as we did and congratulate everyone involved on their fantastic efforts.
Erica Williams from Christ Church Primary School Camden said,
"We were delighted with the performance. Year three have been talking about it non-stop since we left!"
Published on: 20th March 2018