GCSE Drama Students Deliver Outstanding Performance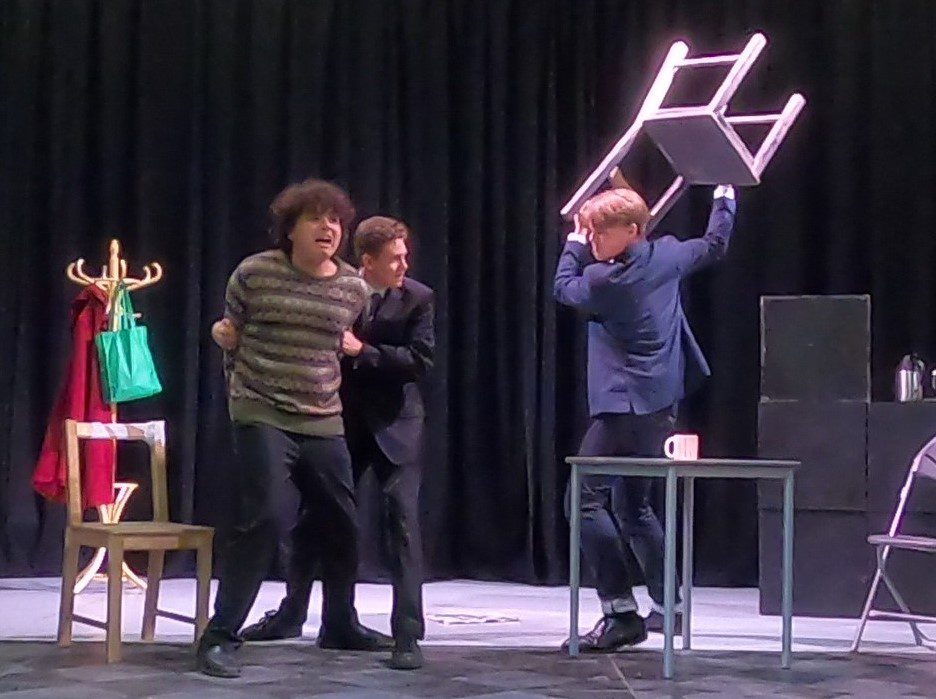 Another huge success for the North Bridge House Senior Canonbury Drama department this term has been the assessed performance by our GCSE Drama cohort of scenes from The Birthday Party by Harold Pinter.
First performed in 1957, this is one of Pinter's best-known and frequently performed plays.  In the setting of a rundown seaside boarding house, a little birthday party is turned into a nightmare when two sinister strangers arrive unexpectedly. Influenced by the Theatre of the Absurd movement, the play has been classified as a comedy of menace, characterised by Pinteresque elements such as ambiguous identity, confusions of time and place, and dark political symbolism.  It is also the equivalent of the Decathlon for actors, demanding considerable technical skill and emotional power – and a lot of hard work.
After weeks of rehearsal, senior students rose to the occasion magnificently, delivering highly accomplished and compelling performances. The performances were filmed, and footage will be made online for parents soon.
Our LAMDA programme continues to be as busy and popular as ever.  Students have worked on the Devising Drama syllabus, which asks pairs of learners to devise two pieces of original theatre.  Working face-to-face and online, the students have created an astonishing thirty-six new playlets over the past few weeks and the standard has been incredibly high, ranging from high comedy to the darkest of dramas.  The scheduled LAMDA exams became a casualty of the rising Covid numbers, but the work will be showcased next term.
Despite the challenges of the current times, there continues to be so much to celebrate about Drama at NBH Canonbury.
North Bridge House Senior Canonbury students achieved highly impressive GCSE results despite the challenge of lockdown, with an overall 66% achieving Grade 7 or above (the equivalent of an 'A' or higher) and 24% making the top Grade 9. North Bridge House Senior Canonbury's best A Level results yet saw 34% of A*/A grades and 21% of all students scoring straight As or higher.
If you would like to find out more about our Senior School Canonbury, or request a prospectus, click here.
To find out when our next open days are taking place, please click here
Published on: 23rd July 2021