KINDNESS MATTERS: Global Be Well Day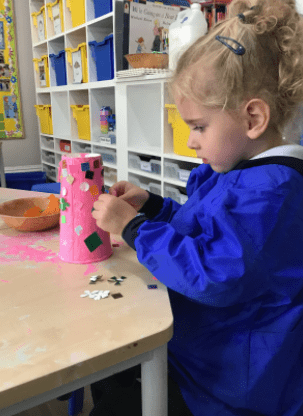 Global Be Well Day (GBWD) saw NBH Nursery & Pre-Prep Schools join Cognita Schools all around the world to recognise the importance of wellbeing, and celebrate the ways in which we can positively impact our own and each other's wellbeing.
We dedicated GBWD to Kindness because the more you do for others, the more you do for yourself: Acts of kindness are scientifically proven to boost our own feelings of satisfaction and wellbeing, and are a great way to boost confidence while making the world a happier place!
In the Nursery School, we talk about kindness every day during circle time and the children really do understand how important it is to be kind to everyone. They are learning to make the link between making wrong or unkind choices and it having a sad or negative effect on someone else, while continuing to make us proud of the acts of kindness we see in them every day.
To build on this learning on Global Be Well Day, children in the Nursery class read 'The Rainbow Fish' and spoke about how the other fish felt when Rainbow Fish was not kind and would not share his shiny scales with his friends. The children then painted their own beautiful rainbow fish – with shiny scales and all! – and shared a shiny scale with their friends during circle time.
Pre-Reception and Reception children completed a number of activities to reinforce kindness on GBWD, including:
Hand-crafting beautiful Kindness Buckets to collect pom poms for every act of kindness made,
Observing the teachers role play kind and unkind scenarios in order to correctly identify the nature of the scenario / action and how a receiving friend may feel,
Making beautiful cards and pictures for friends, as well as sorting pictures of kind and unkind actions.
Years 1 and 2 dedicated their Global Be Well Day to Empathy and Giving. They learnt how acts of kindness can make someone else feel good and also make you feel good at the same time. They then thought about some kind things they could do at school and created 'Acts of Kindness Bunting' to hang their ideas in the classroom.
To request a copy of our prospectus, please click here and one of our Admissions Team will be in touch. Alternatively, please call 020 7 428 1520 or email admissionsenquiries@northbridgehouse.com.
Published on: 20th October 2021