Mr Bibby's Pug Joins Reading Sessions at NBH Prep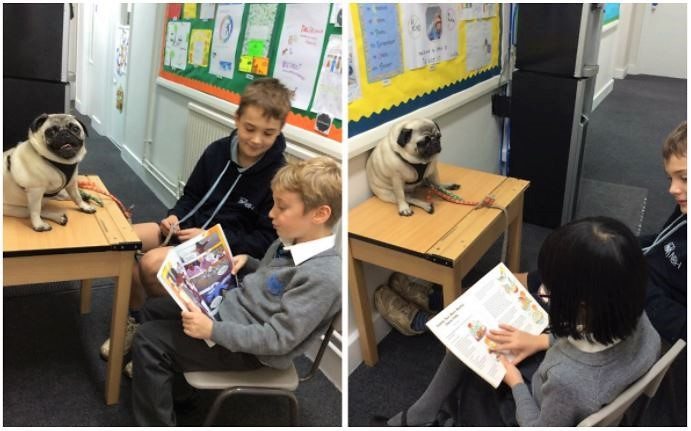 2
Matatu proves there are lessons to be learned from pug life
North Bridge House Prep School pupils have been thrilled to welcome a new kind of classroom assistant to their recent reading sessions: Matatu, Head Teacher Mr Bibby's pet pug.
Further to reports on how dogs can make children better readers and a very successful first recital with Matatu, Year 3 pupils will now enjoy the pug's therapeutic presence once a week for reading sessions throughout the year.
Year 3 teacher Mrs May said:
"The children were delighted that Matatu had come to listen to them read – even those that are usually quite shy.  It had a very calming effect on the children and they all felt comfortable reading to her. They haven't stopped asking about when she will be back!"
Mr Bibby, recently featured in education press for also introducing Philosophy to classroom at NBH Prep, said:
"On the surface, this activity may seem like something cute and trivial however, we are finding that having Matatu in the classroom enables our pupils to apply their reading skills in a positive and enjoyable way. Having the dog there is allowing them to experiment with tone of voice and to take their time over potentially difficult words in a calming and motivational environment."
Mr Bibby will monitor the positive impact of this activity with the potential view to introducing something similar to other year groups later in the year.

Quotes from Year 3 Prep children
Eitan, Year 3
"I liked reading to the pug because she was cute and really quiet."
Leyla, Year 3
"It was fun reading to the pug because she was really friendly and I got to pet her afterwards."
Published on: 26th October 2017