NBH Canonbury Sponsors Islington in Bloom 2015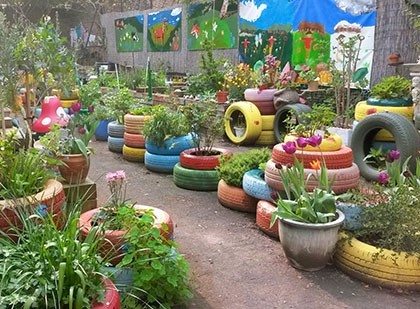 North Bridge House Senior School and Sixth Form Canonbury has partnered with Islington Council to sponsor the 'Best Forgotten Corner' category of the annual horticultural competition for Islington residents who are giving up their time to make the borough a brighter place to live and work in.
With the competition launching this month, the school is calling out for entries from any garden on a formerly neglected piece of private land, which is visible to the passing public and which has been adopted, improved and maintained by an unpaid individual or group of volunteers. Entries must be submitted before 29 May.
This category particularly resonates with North Bridge House Canonbury. Continuing to go from strength to strength in its opening year as Islington's first independent Senior School and Sixth Form, NBH Canonbury is located at 6-9 Canonbury Place in a historic Tudor building which can trace its origins back to the reign of Henry VIII. However, it took £3.5m of investment to restore this unloved and almost derelict Islington building into the highly attractive learning environment it is today, combining the stunning original features of the impressive Grade 2 listed building with fully refurbished contemporary teaching and learning facilities to meet the needs of its students and staff.
Jonathan Taylor, Head Teacher at NBH Canonbury said:
"At NBH Canonbury we know how rewarding it can be to breathe new life into a forgotten area. Not only have we been able to create an inspiring new school campus at Canonbury Place and restore the King Edward's Hall to its former glory as a theatre space, but in doing so we have been able to make strong links with the local community and Canonbury Society. By sponsoring the 'Best Forgotten Corner' category, we are delighted to have the opportunity to recognise the efforts of our local residents, who are transforming Islington's other forgotten corners into more attractive areas that can be appreciated by the whole community. We hope that as many residents as possible submit entries to this category before 29 May. "
Islington Council Parks and Open Spaces Manager, Andrew Bedford said: "We are encouraging as many community groups and individuals to enter the Islington in Bloom competition as possible. We know that a lot of people will already have started work on their entries but there is still plenty of time to have a go."
Everyone who enters the 'Best Forgotten Corner' category will get a free bag of compost, a half price plant and a £5 gift voucher for Camden Garden Centre, and a prize of up to £100 worth of garden centre vouchers is up for grabs in this Category.
Visit www.islington.gov.uk/inbloom for more information and how to enter.
Published on: 23rd April 2015