NBH Senior Hampstead Announced Finalists for the Independent Schools Association Awards 2018
North Bridge House Senior Hampstead is thrilled to have made it to the finals of the Independent Schools Association Awards 2018.
Shortlisted for the Outstanding Sport (Large School) award, NBH Senior Hampstead is in the final three schools to have impressed the ISA with their outstanding sporting provision and opportunities offered to pupils, and is now competing for the title.
The ISA Awards is an annual event that celebrates success in independent schools, and recognises the breadth of quality and provision in independent education across the country. The awards are an excellent opportunity to celebrate schools' successes and promote their achievements among the pupil, teacher, parent and wider community.
The Outstanding Sport award showcases independent schools that have invested great time and effort into partnership work with state schools or the community, extensive extra-curricular programmes, or opportunities to access national / international events.
Since NBH Senior Hampstead gained its multi-purpose sports hall in 2014, the school's sporting provision has continued to grow and grow, with pupils achieving both individually and in their teams on a weekly basis. From cricket to volleyball, local events to competitions held across Europe, sport is hugely significant to the ethos at NBH and we are really proud to have been recognised for this.
While judging took place over the Summer, the winner will be revealed at the ISA's prestigious Awards Ceremony in November. Good luck to all staff and students at NBH Senior Hampstead.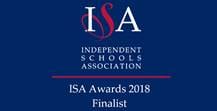 Published on: 4th October 2018