Prep pupils earn VIP Santa visit after raising £2000 in record time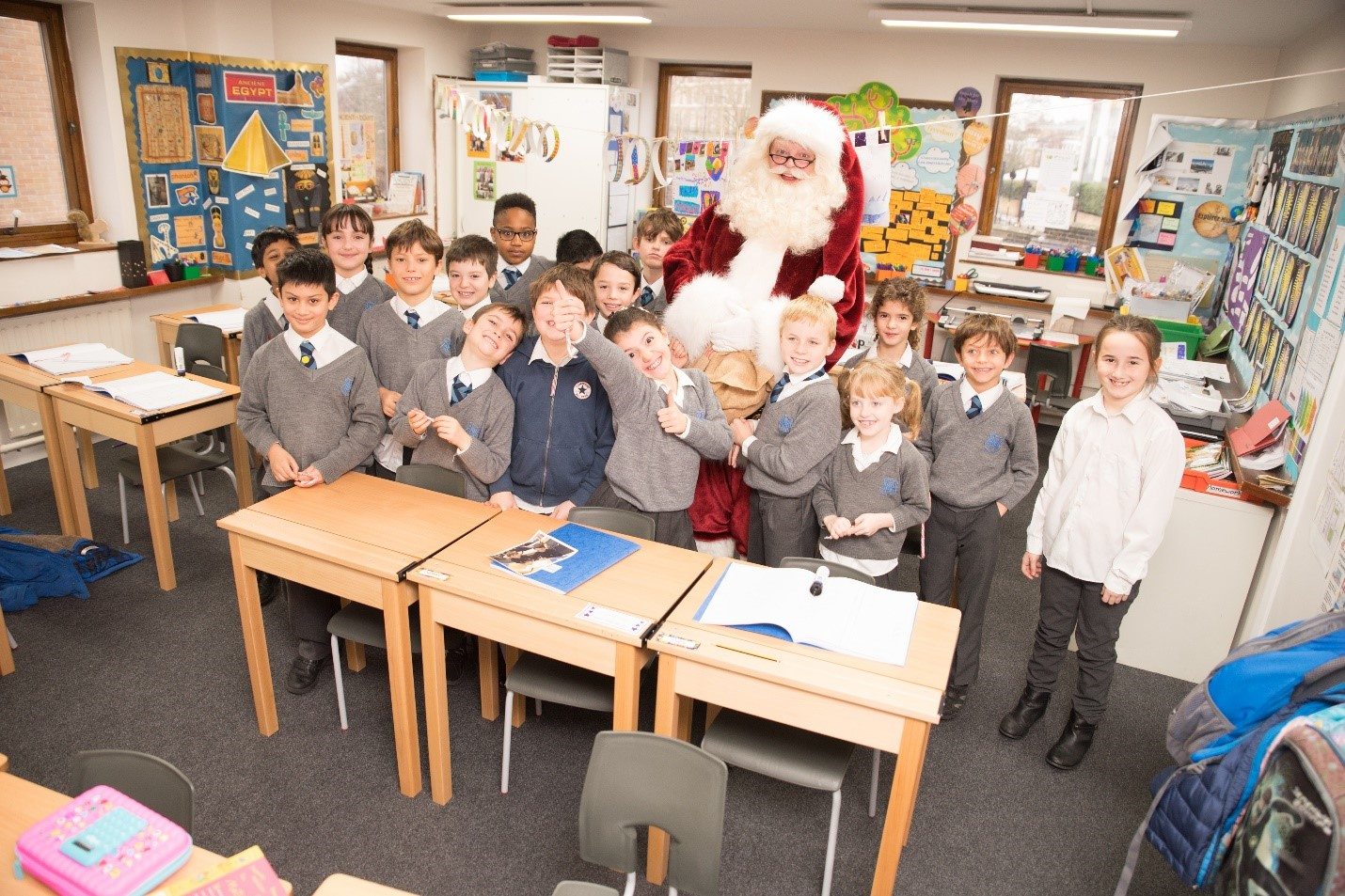 North Bridge House Prep School pupils received a surprise visit from Father Christmas this week, after raising a huge £1936.54 for Great Ormond Street Hospital Children's Charity in just 50 minutes. Santa swung by in a red Mini convertible to thank the children, making the Prep School a special stop-off on his awareness-raising tour around London landmarks.
Having attended Great Ormond Street Hospital just last week to present a cheque on behalf of their classmates, the school's charity leads were over the moon to welcome GOSH representatives to North Bridge House and to spread the festive spirit among fellow pupils.
GOSH organised Santa's visit to NBH as part of their partnership with the Rosewood Hotel, where Santa is staying whilst he campaigns for the children's charity by encouraging people to make £1 Christmas wishes.
Like Santa, NBH pupils did their bit for GOSH by holding a house themed 'Wear it for GOSH' event. Children dressed in their house colours and made as many art, craft and cake sales as they could within their 50-minute break-time. Raising close to £2000 in the short space of time, pupils' sterling efforts made nearly £39 a minute.
To donate their total funds to GOSH Children's Charity, NBH nominated pupils Wylder and Dev, the charity leads for Lancelot house, to deliver a cheque to the hospital. Accompanied by their teacher and Charities Coordinator, Wylder and Dev were shown around the hospital to see how funds raised contribute to advanced equipment and pioneering research, as well as to improving the stay of young patients.
From the virtual reality tour with Peter Pan at reception, to the fireplace where families can write messages to be delivered to patients, the pupils said:
"We really enjoyed our time at GOSH and getting to know the hospital better."

"We also found out that with charity funds, GOSH are making a new outside play area for the children being seen at the hospital. It is going to be an old shipwreck and will be ready next summer," said Wylder in Year 6.
To thank the rest of the children at NBH Prep, GOSH asked Santa to share some Christmas joy and visit every class in Years 3 and 4. Joining music lessons and drama rehearsals, Father Christmas made his way around speaking to all of the children and gave them each a candy cane in return for their hard work.
Delighted to have given something back to the young fundraisers, Santa concluded his visit by reminding those hoping for gifts this Christmas to keep their bedrooms tidy and to always be kind and polite – not to ask people if their beards are real!
We look forward to continuing to support GOSH, particularly with the children's Christmas cards which are being sold at £1 each for the cause.
Published on: 14th December 2017