Poet Laureate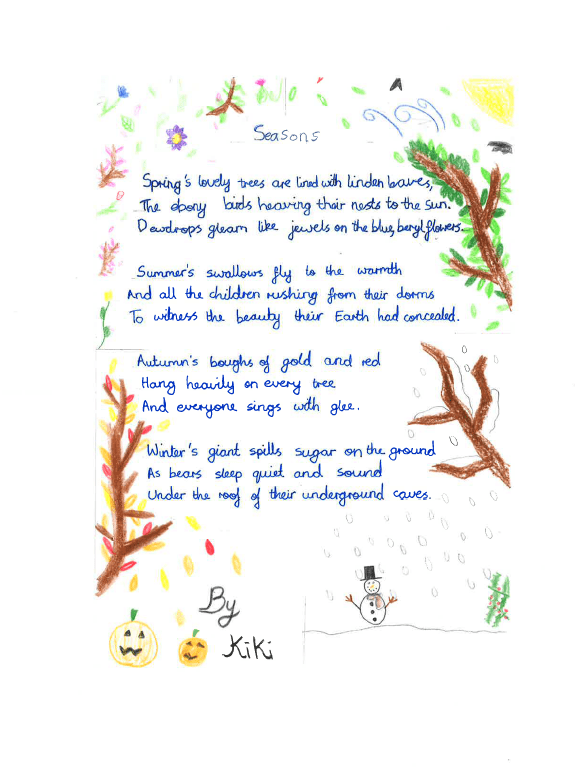 In October, Year 4 pupils completed an exciting competition to celebrate National Poetry Day 2021. Children were invited to write a poem on the theme of 'if I could change the world…'.  They created a variety of thoughtful, imaginative and entertaining poems, complete with some wonderful illustrations. Year 6 and 8 English Ambassadors had the challenging task of judging the entries, and they took their role very seriously! Well done to all entrants!
Year 4 Winners
1st place: Coco Rose, 4Purcell
2nd place: Edoardo P, 4Polglaze
3rd place: Savannah W, 4Truesdale
Special mentions: Tanisha, 4Purcell and Leo O, 4Truesdale
Year 5 pupils also took part in an exciting English competition this term. They were invited to create a poem on the theme of the changing seasons. Pupils were given four published poems to 'magpie' ideas and imagery from and then combine these with their own inspiration to produce a new poem. Again, students created some fantastically evocative and vivid poems – all beautifully illustrated.  Well done to all entrants!
Year 5 Winners
1st place: Eliza H
2nd place: Kiki
3rd place: Rohan
Special mentions: Leah, Harriet M and Evelyn
To find out more about NBH Prep School, please visit here.
Published on: 7th January 2022