Pupil Account: Victorian Day 2015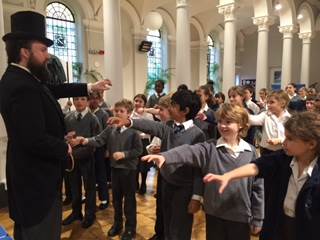 It was great fun doing the Victorian Workshop on Wednesday 4th November 2015. Actors and actresses came to the school to show us what Victorian life was like. We learnt a lot, such as how some kids were sent to work at a very young age. One of the jobs they had to do was going down the coal mines – they used pick axes to dig out the coal and then loaded it into carts which they then had to drag along the tunnels in the mine, deep underground. It sounded like very hard and dangerous work and I am so glad that I don't have to do that. There didn't seem to be any time for children to have fun.
My favourite scene was acting out going to school, although not all children in Victorian times could afford to go to school and that's why they were sent to work instead. The teachers were very strict (a lot stricter than the teachers at North Bridge House!) as they beat you if you got a question wrong.
We also learnt that sometimes very poor parents would disfigure their child so people would feel sorry for them and give them more money. Also some parents sent their kids mud-larking which meant going into the River Thames at low tide to look for coins or even coal that had fallen into the river. Out of all the jobs that Victorian kids had to do I think that this sounds like the most fun!
I would really recommend this workshop as it was interactive and made earning about the Victorians really exciting and interesting.
By Elliot Bowden
The Victorian workshop was a great experience for Year 5. Everyone had a role of a Victorian child who did a job, such as coal-miner, chimney-sweeper and many more things. At the end everyone acted all their scenes out and learnt many things watching each other. For example, Victorian children worked hard for hardly any money and they got beaten most of the time. One of the children acted as Thomas Price, who was a chimney-sweeper who died from falling down a dusty, hot chimney. This made us feel a bit sad. Year 5 learnt a great deal about the Victorians and they definitely enjoyed themselves. It was totally 10/10 stars!!!
By Gideon and Keshav
I thought the Victorian workshop was a great experience for us. We learnt about the life the Victorians lived, the jobs they had and what they did. We performed a very interesting play about Victorian children, everyone had a part in it. I was sad for some of the children. Thomas Price, a chimney sweeper died in a chimney, he also got abused! The children had to work very hard for very little money! Although the life of the children was very sad, our classmates gave it five stars as it was very touching. But it was quite unfair we thought, that  they didn't get the privilege to go to school.
Year 5 learnt a lot about Victorians and enjoyed the workshop.  We would like to thank the Year 5 teachers who organised this.
By Navya & Eva
Published on: 5th November 2015