Senior Students Record Feature Film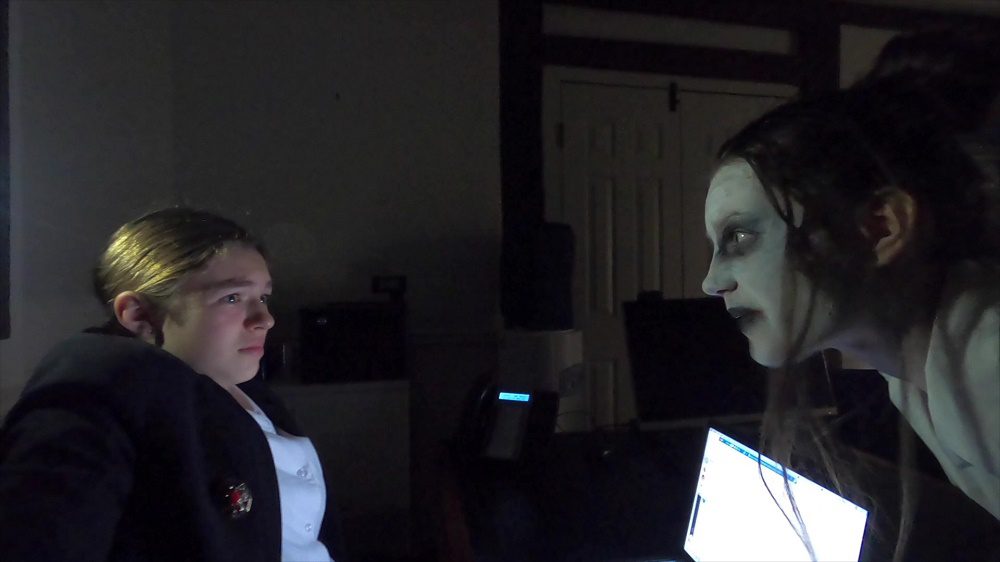 When it was clear North Bridge House Senior Canonbury's annual live production would not be going ahead because audiences weren't allowed in school for months, Mrs Parks, Head of Drama, decided to make a feature film!
As an experienced playwright for BBC Radio, Mrs Parks set about creating a modern twist on the iconic film A Christmas Carol. Using our talented students for the cast and our quirky, beautiful school buildings and historic surrounding area for the location, the hard work began.
After developing the story, students improvised scenes based on Dickens's original narrative but in modern English.  These were filmed over the October half term break and Mrs Parks used them as a basis for writing the script.
The biggest challenge – and as a writer Mrs Parks found it the most enjoyable – was reworking the story so that the KS3 and KS4 student bubbles didn't mix!  So, to give just one example, Dickens's Cratchit family Christmas lunch became the Cratchit family Zoom call, filmed simultaneously in three different locations around the school.
From November, the team worked flat out to get the whole story filmed before term, filming five nights a week and sometimes all day on Sundays as well.  The commitment, hard work and energy of the students involved was astounding.
"I can't praise them highly enough.  Throughout the insanely complicated schedule, everyone turned up on time and ready to work, quickly adapting to the techniques needed for acting to camera and giving total commitment to every take," says Mrs Parks.
Despite numerous setbacks such as lockdown ending trips to Camden market for costume buying, students self-isolating, freezing temperatures and Islington traffic taking their toll, everyone kept their dynamism and good humour, and it remained a hugely happy project.
Mrs Park would like to extend her gratitude to Thomas's parents, who lent their house for the Christmas lunch scene; Lorein's mother and little sister; Emma's parents and little brother; Tom at The Place café; Ellen for her fabulous props and Mrs Capron for the additional gravestones; Mr Pavey for vacating his office whenever it was needed and Ian and Sammy for their unwavering help and patience during filming around the school. Thomas in Y12 was a tower of strength and provided the technical support.  And of course, everyone in the cast
Once shooting was finished, Mrs Parks' son Joe helped create a fast-paced, compelling piece of storytelling out of literally hundreds of clips. He created the sound and the visual effects, sequenced the reaction shots, smoothed over where performers forgot their lines, or the cameraman had goofed and designed the credits including the out-takes; he was a huge help.
Mrs Parks says, "Filmed on a GoPro, edited on iMovie, and all at a time of national and personal tragedy, for me the successful delivery of A COVID CHRISTMAS CAROL is nothing short of miraculous.  I'm immensely proud of it, and judging by the glowing feedback it's received, the NBH community are too.  I think it's the best school production we've done so far and given the high quality of our students' work, that's saying a great deal."
North Bridge House Senior Canonbury students achieved highly impressive GCSE results despite the challenge of lockdown, with an overall 66% achieving Grade 7 or above (the equivalent of an 'A' or higher) and 24% making the top Grade 9. North Bridge House Senior Canonbury's best A Level results yet saw 34% of A*/A grades and 21% of all students scoring straight As or higher.
If you would like to find out more about our Senior School Canonbury, or request a prospectus, click here.
To find out when our next open days are taking place, please click here
Published on: 23rd July 2021