Sixth Form Student & Youth Parliament Member Debates at House of Commons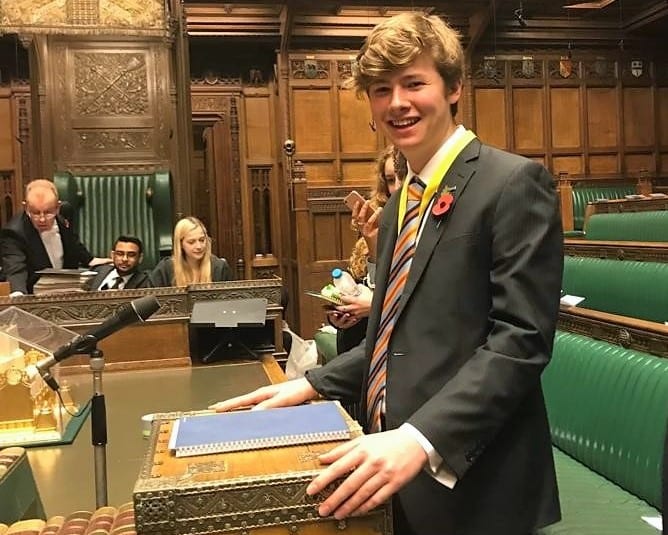 On Friday 9th November, Year 13 North Bridge House Senior Canonbury student, Bertie sat with fellow Members of the Youth Parliament for their annual debate in the House of Commons chamber.
Chelsea and Kensington Youth Parliament Member and high-achieving NBH Sixth Form student, Bertie joined the discussion on knife crime, mental health, equal pay, tackling homelessness and votes at 16 – five issues chosen by a ballot of young people from across the UK – to decide which two topics should become the UK Youth Parliament's priority campaigns for the year ahead.
The UK Youth Parliament began their annual debate this year with a special opening speech on the Centenary of the First World War and closed by marking the 1918 Representation of the People Act, which allowed women over the age of 30 who met a property qualification to vote. Proceedings were streamed live online and chaired by the Speaker of the House of Commons, Rt Hon John Bercow MP, with Bertie joining fellow representatives to debate some of our future generation's biggest concerns.
The UK Youth Parliament provides opportunities for 11-18 year olds to use their elected voice to bring about social change through meaningful representation and campaigning. They first debated in the House of Commons on 30 October 2009, which was the first time in history that the chamber was used by a group other than MPs.
Bertie was honoured to make his maiden speech on behalf the local generation and we look forward to keeping up with him on the UK Youth Parliament's upcoming campaigns.
Published on: 15th November 2018