Students Celebrate Pride Month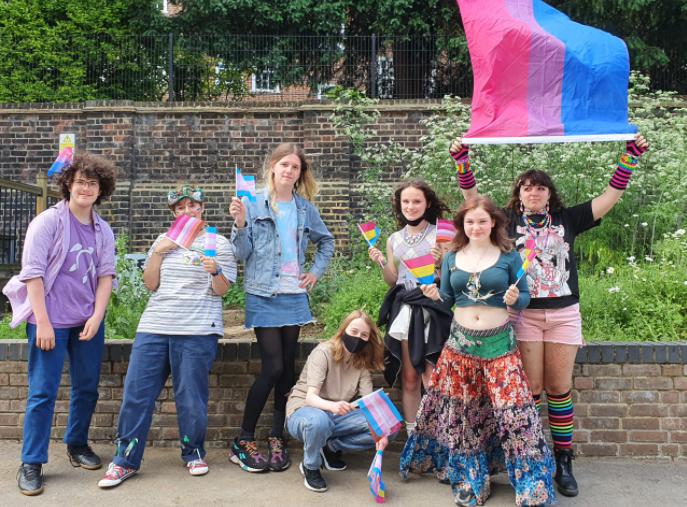 North Bridge House Senior Hampstead pupils celebrated this year's Pride Month in true style. From Happy Colourful Clothes Day UK to a bake sale in aid of the local youth-based charity, Mosaic LGBT+ Young Persons' Trust, our students celebrated LGBT+ life, campaigning for equality and challenging prejudice.
NBH's very own Pride and Diversity Council wanted to get 'the whole-school community involved in creating a culture of inclusion where diversity is celebrated and launched 'Pride Month' in assembly with a brilliant short film (created by a student) with the key messages of 'we are one' and 'be who you want to be'.
The True North's (school newspaper) editorial team also created a special 'Pride Month' edition which included a features on the history of the gender binary, a timeline of gay rights, a profile on Alan Turing, artwork inspired by LGBTQ+ figures and the idea of Pride & Diversity, and why we celebrate Pride.
In addition to this, staff engineered and promoted an inclusive curriculum throughout the Summer Term, celebrating and educating on Pride throughout all aspects of learning, including:
In Art, the spotlight was on LGBTQ+ artists with students' learning about artists and being inspired by them to create their own artwork.
In English, Y10s explored gender and performance in Shakespeare and looked at their set text 'Macbeth' through the lens of societal constructions of gender. Below is a critical comment from one of our Y10 students about the character of Lady Macbeth:
"Lady Macbeth plays as a representative of gender non-conformity within the play. She is a character written to rebel and defy all gender stereotypes surrounding femininity within the play. Therefore, she behaves with the demeanour of performative masculinity as a means of being able to manipulate, tempt and convince her husband."
In Y9 English, students did a unit comparing non-fiction texts exploring different ideas and perspectives on racial identity, prejudice, gender, sexuality, etc. Within this unit they also compared two authors different perspectives on celebrating Pride.
In Computing, students created Rainbow-theme graphs in Python turtle.
In Food Technology, students incorporated rainbow colours into their delicious baking/cooking.
In Geography, pupils looked at gender fluidity and identity in the animal kingdom.
In History, students looked at 20th Century Law changes that helped diversity
In Classics, students presented on women from the ancient world highlighting LGBTQ+ characters from the classical world and their reception.
Science students took inspiration from the Pride rainbow and did some particularly colourful practicals
In Sport, Mr Wilkinson and Lara D in Y10 did a Pride and Diversity in Sport assembly
In Creative Arts, the school's Year 11 production of Grease subverted expectations of gender roles from the original.
If you would like to find out more about North Bridge House Senior Hampstead, or apply for a place, please contact our friendly Admissions Team who would be glad to help. Call 020 7 428 1520 or email admissionsenquiries@northbridgehouse.com
To book an upcoming open day, click here.
Published on: 29th July 2021