North Bridge House Prep School pupils gain entry to some of the best Senior Schools in London and the UK. Destination schools include: Channing, City of London, Highgate, Mill Hill, North London Collegiate, North Bridge House Seniors, South Hampstead, St. Paul's, UCS and Westminster, to name but a few.
For pupils choosing to continue their education at North Bridge House, they have the option to join our Senior School in Hampstead, or our Senior School and Sixth Form in Canonbury.
Most importantly, all pupils are carefully advised on and prepared for the right Senior School for them.
Year on year, North Bridge House Prep School girls achieve fantastic results, gaining places at renowned Senior Schools such as:
City of London School for Girls
Channing School
Francis Holland School
Godolphin and Latymer
Highgate School
North Bridge House Senior School
North London Collegiate
Queen's College
South Hampstead High School
---
A total of seven Academic scholarships were offered alongside one Music scholarship and an impressive Headmaster's Award, reflecting the academic and creative talent across the year group.
Click on the image to see a full breakdown of the offers received and from which schools. Well done to all of our talented girls!
---
---

Boys' 11+ and Common Entrance Results
North Bridge House Prep School is known for placing boys at some of the top Senior Schools in the country – often with prestigious scholarship awards –  following their impressive 11+ and 13+ Common Entrance exam results. These include:
City of London
Eton
Haileybury
Harrow
Merchant Taylors'
Mill Hill
North Bridge House
St Albans
St Paul's
UCS
Westminster
---
---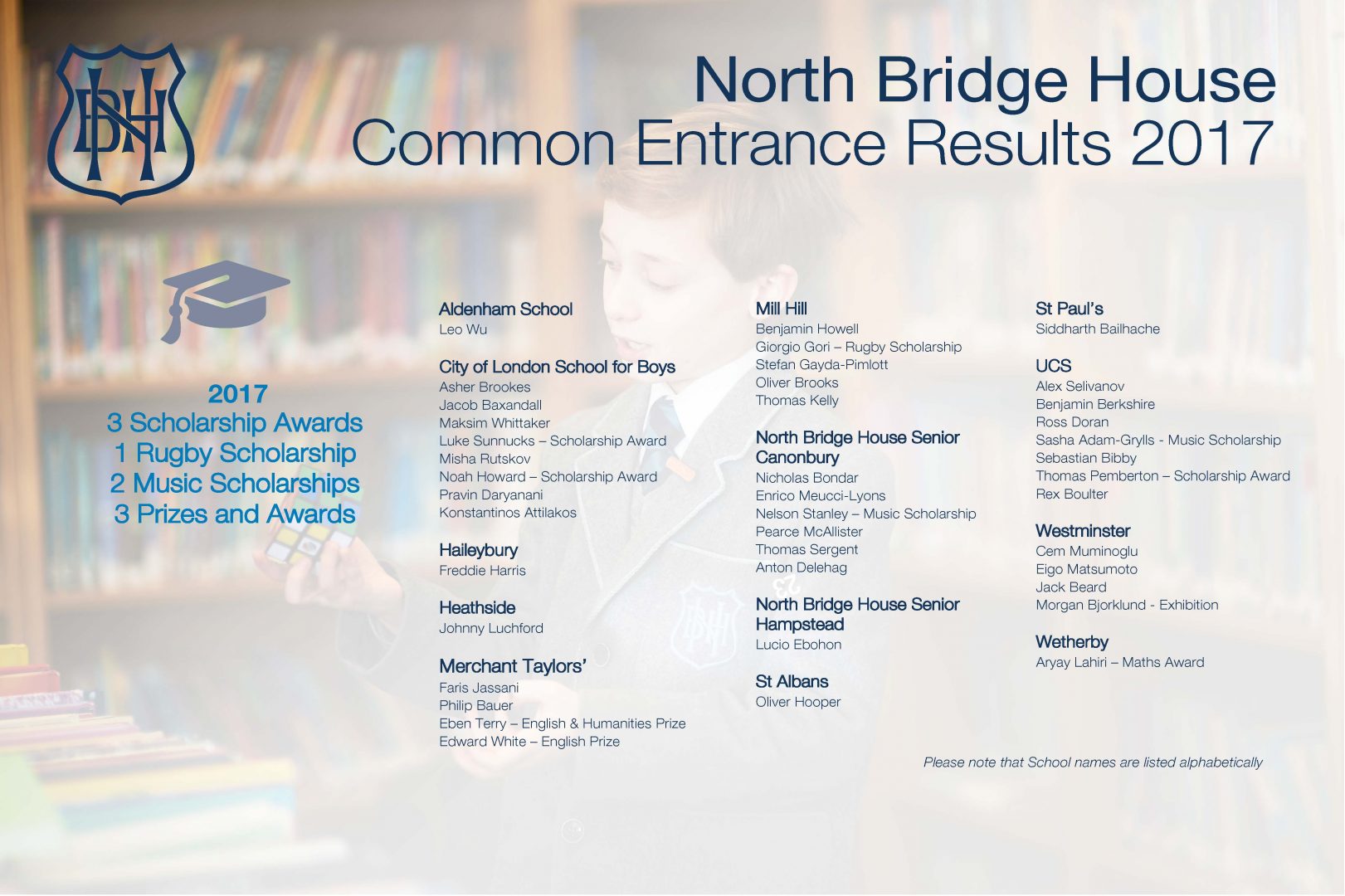 The 2017 boys' 13+ Common Entrance results saw a total of ten scholarships and prizes awarded for Academic, Sport and Music accolades.
Click here to see the breakdown of places and prizes awarded and to which schools, or on the image to expand the breakdown of school places accepted. Well done to all of our hard-working boys.
---