Charities 'quids-in' thanks to North Bridge House fundraisers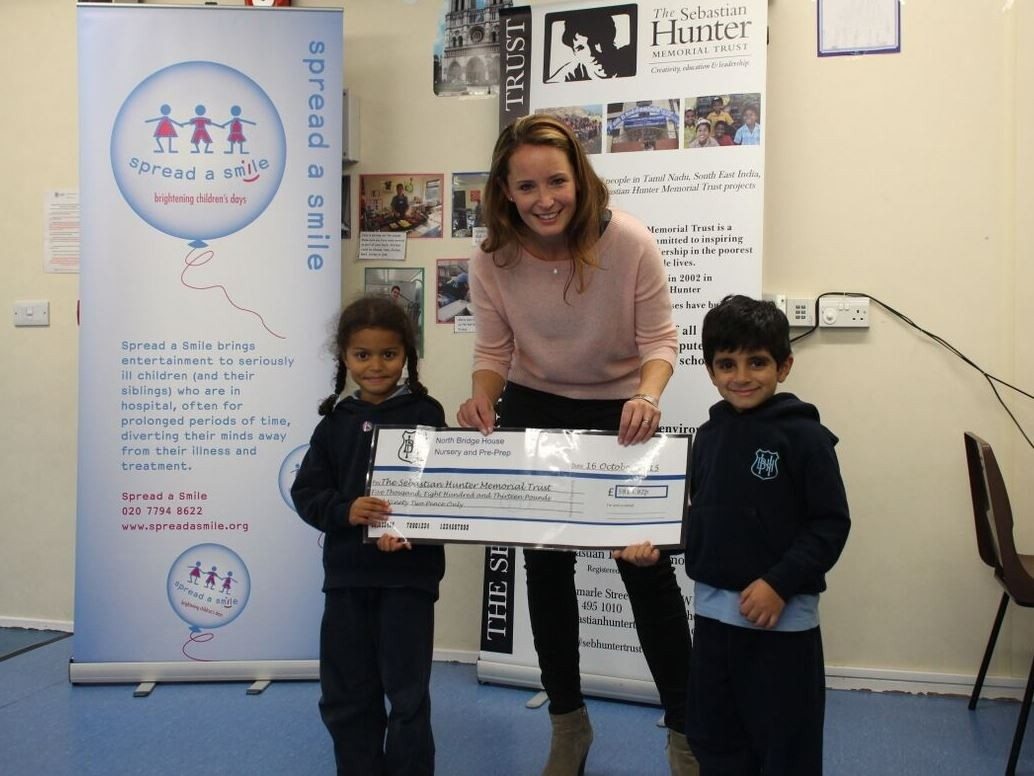 North Bridge House Nursery and Pre-Prep pupils and Head Teacher, Mrs McLelland, proudly presented cheques for £5,813.92 to both The Sebastian Hunter Memorial Trust and Spread a Smile charities, thanks to the sterling efforts of their fundraisers.
Parents, pupils and staff at North Bridge House Nursery and Pre-Prep Schools raised a whopping £11,627.84 for these two very worthy causes at their annual summer fair and exclusive art sale. Pupils painted 24 pictures in all, which were sold off to the 'highest bidders' and no doubt now take pride of place over many mantels. The final pieces can be seen here.
"These charities are very close to the hearts of our parents," Mrs McLelland explained. "We pride ourselves on the community feel we have at North Bridge House. We welcome generation after generation to the Nursery and Pre-Prep and are therefore truly embedded within the local community – so we want to support it wherever we can."
Josephine Segal, co-Founder of Spread a Smile added, "Our charity is dedicated to improving the time spent by seriously ill children and teenagers in Great Ormond Street, University College and The Royal London Hospitals. We take entertainers along to divert the patients' attention away from their treatment and the boredom of hospital stays -and entertain their siblings too. We'd like to thank the parents and North Bridge House School for this donation."
Laura Walford of The Sebastian Hunter Memorial Trust (and North Bridge House mother) said, "The Trust was founded in 2002 in memory of my brother. Today, the trust aims to reach out to the poorest and most vulnerable in Tamil Nadu, India, providing access to education and sustainable livelihoods thanks to the support of teachers, social workers and donations such as that raised by the other parents and staff at the Nursery and Pre-Prep Schools."
Mrs McLelland concluded, "I'd like to thank all the class reps for their help organising the events – and without whom we would not have raised such a fantastic amount. Particular thanks go to Lucy Kaye for her advice and her kindness in agreeing to organise next year's fair on Saturday 25th June 2016.  Save the date now!"
To find out more about the great work these charities do, please go to sebsschool.org and spreadasmile.org.
Published on: 18th November 2015