Jonathan Edwards, CBE Declares NBH Sports Hall Officially Open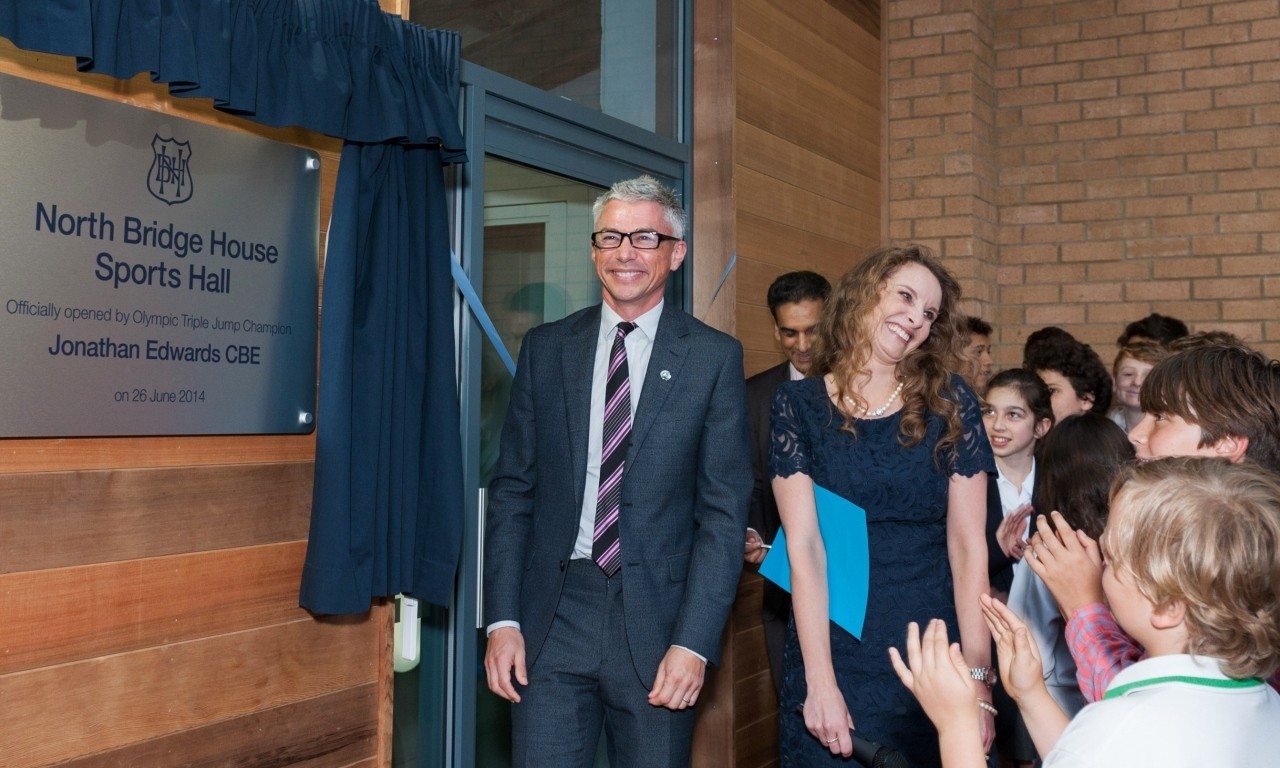 On Thursday 26th June, North Bridge House Senior School welcomed triple jump world record holder, Jonathan Edwards to open our brand new Sports Hall. The former Olympic, World, European and Commonwealth champion cut the ribbon on the new centre, which enhances our vast academic and extra-curricular offering and completes our on-site state-of-the-art facilities.
Introduced by Danny and Matti, our new Head Boy and Head Girl, Jonathan Edwards inspired our congregation of parents, pupils and staff with his enthusiasm for sport and the benefits it has for young people. Although having won several Gold medals during his athletic career, including Olympic Gold at the Sydney Games in 2000, Jonathan revealed that he had not been a born winner.
Remembering his own school days, Jonathan said:
'I was actually rather bad at sport, well not bad but not great. In fact, I do not even hold my school's record for the triple jump and was beaten on more than one occasion competing for it.'
This was somewhat hard to believe as Jonathan then amazed us all by showing us the record breaking distance he jumped in the 1995 World Championships. As a number of our keen sportsmen tried their luck at jumping Jonathan's 18.29m record, the capacity and versatility of the hall really came to light. With Badminton and Basketball courts, Cricket nets, a 5-A-Side Football pitch and functioning as a fully equipped gymnasium, the hall has enabled North Bridge House Senior School to provide our pupils with a wealth of sporting opportunities.
In addition, the hall will now allow for bigger and more elaborate Drama performances as well as provide a fantastic space for educational workshops, awards ceremonies and assemblies.
Mrs. Masefield, Headteacher, said:
'It gives me great pleasure to have Jonathan Edwards, CBE declare the Sports Hall officially open and to have such a valuable and stunning new resource to encourage our students' burgeoning sporting talent. We look forward to building not only on our sporting successes but on our vibrant concerts and performances.'
Supported by foundations which extend a staggering 41 metres underground, the Hall is more than just a space for sporting and creative activity though. Spread across the roof is 70 tons of earth seeded with green succulents, which will create a habitat for wildlife and allow North Bridge House pupils to explore biodiversity. The addition of the allotment on the far side of the Sports Hall will further facilitate pupils in growing their own fruit and vegetables and teach them to value a nutritionally balanced diet.
Watch this space for the many more events, competitions and successes the Sports Hall will inevitably bring to NBH Senior School!
Published on: 10th October 2015