North Bridge House Senior Shows Pride in Force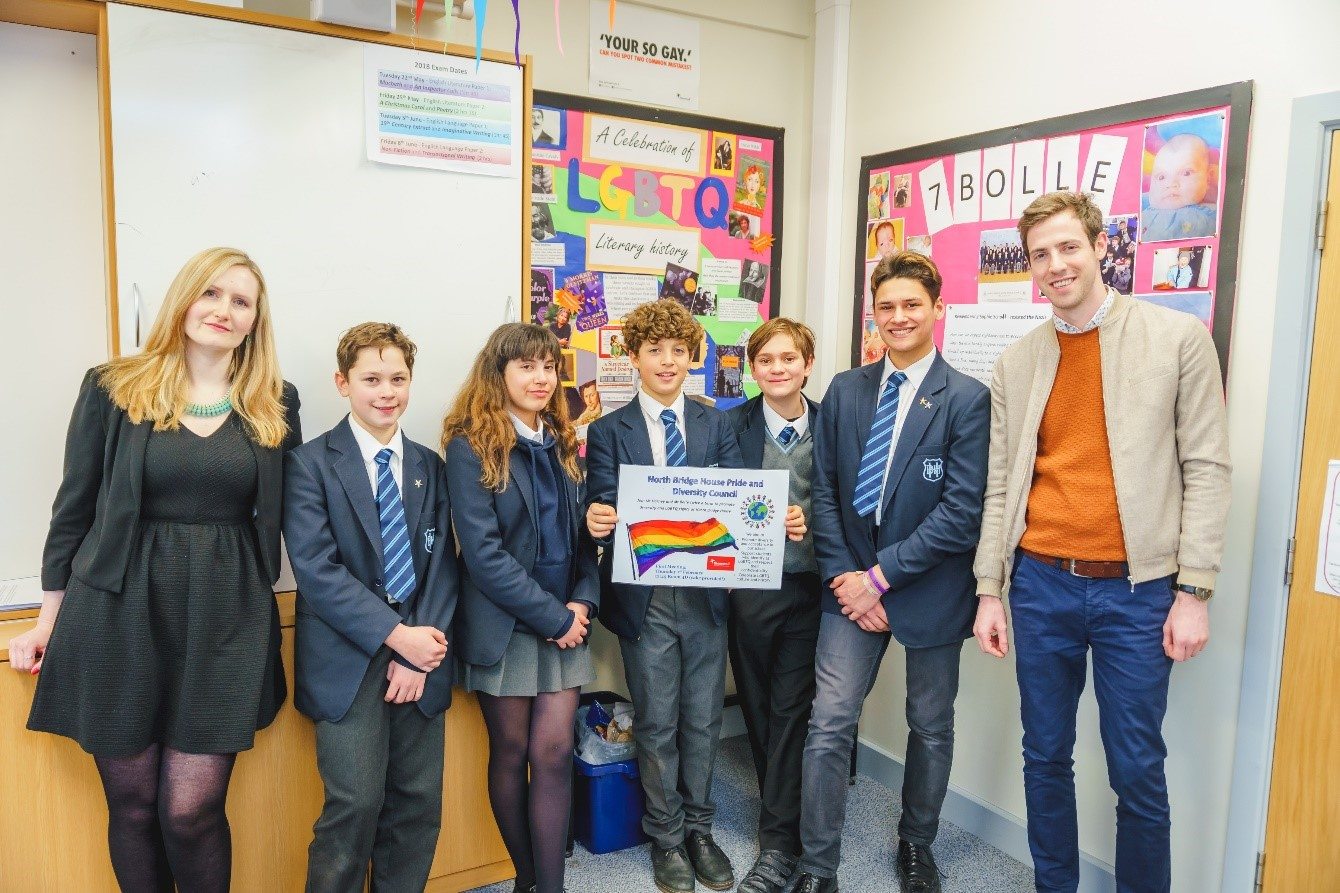 NBH Senior Hampstead Promotes Openness, Diversity and Inclusiveness through new 'Pride and Diversity Council'
Its first meeting was held on 1 February – aptly timed to coincide with the start of LGBT history month – and North Bridge House Senior Hampstead's Pride and Diversity Council's founding teachers Katharine Harney and Ellis Bolle were overwhelmed with the forty-strong attendance!
Inspired by Stonewall training in November last year, Katherine and Ellis were inspired to take some of these ideas back to school.
Last academic year, Ellis led a Key Stage 3 assembly on 'Self-Acceptance', where he told his personal journey of self-acceptance about his sexuality.
Katherine says,
"It was a really moving and inspiring assembly, and the students responded so well."
And it was this response that lead to the formation of an official 'Pride and Diversity Council' at the school.
The duo bravely attended all year group assemblies and pitched the idea of the council to NBH Senior students, emphasising that the council is open to all students, however they identify.
The new council, promoting a message of openness and inclusiveness in relation to the LGBTQ community, has already made a big impact at North Bridge House Senior Hampstead. They have held sessions and workshops on issues that affect LGBTQ students and, just last week, a whole school assembly with support from the students on LGBT history month.
Encouraging all students to get involved, the council aims to promote diversity and acceptance at school as well as supporting students who identify as LGBTQ and respecting their confidentiality. They have also committed to celebrate LGBTQ culture and history throughout the year, taking part in both the LGBTQ history month and Pride during the Summer Term.
It is also important to the council to promote Stonewall's work and to encourage activism and ambassadorship for LGBTQ matters, with the aim of working towards the Stonewall Bronze award.
Katherine concludes,
"The strongest support, I think, has come from students who identify as 'allies'. Encouraging all students, especially those who do not identify as LGBTQ, to think, listen, care and become allies is work that all schools – Cognita or otherwise, can do."
Published on: 8th March 2018